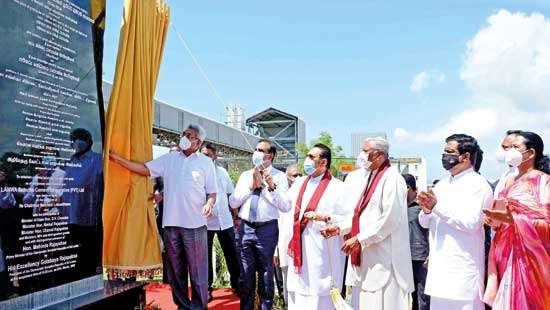 State bureaucracy delayed opening of Lanwa Sanstha Cement factory: Chamal Rajapaksa – Business News
---
President Gotabaya Rajapaksa unveils a plaque during the opening of the factory. Prime Minister Mahinda Rajapaksa, Ministers Chamal Rajapaksa, Bandula Gunawardena, Pavithra Wanniarachchi and Lanwa Group Chairman Nandana Lokuwithana are also present.
Photo by Pradeep Pathirana
President and Prime Minister declare the opening of a $100 million cement plant
By Yohan Perera
The US$100 million Lanwa Sanstha Cement plant in Hambantota, which was declared open yesterday by President Gotabaya Rajapaksa and Prime Minister Mahinda Rajapaksa, would have been commissioned much earlier if not was for the bureaucracy of state officials, a senior minister pointed out yesterday.
Minister of Irrigation and Minister of State for National Security and Disaster Management and Minister of State for Home Affairs Chamal Rajapaksa speaking at the opening of the cement factory in Lanwa Sanstha, said investor Nandana Lokuwithana requested the land to build the cement plant several years ago, but some government officials did not release the land.
"This factory would have come into existence much sooner if those in charge had not behaved as they did. Officials should think about the future of Sri Lanka," the minister said.
Minister of State DB Channaka, who also attended the opening of the plant, said Sri Lanka will be able to become self-sufficient in cement when the second phase of the plant arrives.
"Sri Lanka's annual cement requirements are 7 million metric tons, but only 4 million metric tons are produced locally. The Lanwa Sanstha Cement plant is expected to produce 2.8 million metric tons per year and can play a role in making Sri Lanka self-sufficient in cement," he said.
He also said encouraging similar projects was part of the government's long-term solution to the currency crisis.
"We also plan to add 11 more export processing zones in addition to the existing 14 zones in Sri Lanka," he added.
The fabrication plant incorporates many state-of-the-art features such as the fully automated stacker salvage yard and 2 bridge-type ship unloaders for efficient, waste-free and sustainable cargo handling.
Investors hope that this facility will give a major boost to the economy in terms of saving foreign currency while empowering the construction local by eliminating the cement shortage triggered by the cement import ban put in place. place to mitigate the depreciation of the rupee.
The Lanwa Sanstha Cement Plant will produce the full range of cement products, including Ordinary Portland Cement (OPC), Portland Composite Cement (PPC) and Blended Hydraulic Cement (BHC), meeting the growing local demand for flagship projects, in particular the port city and the network of motorways.
The opening ceremony was followed by a tour of the facilities for the dignitaries present.